Roasted chicken recipe is a delightful culinary adventure that can result in a mouthwatering and tender meal. If you're ready to learn how to roast a chicken step by step, you've come to the right place.
In this simple guide, we'll show you how to choose a chicken and carve it like an expert.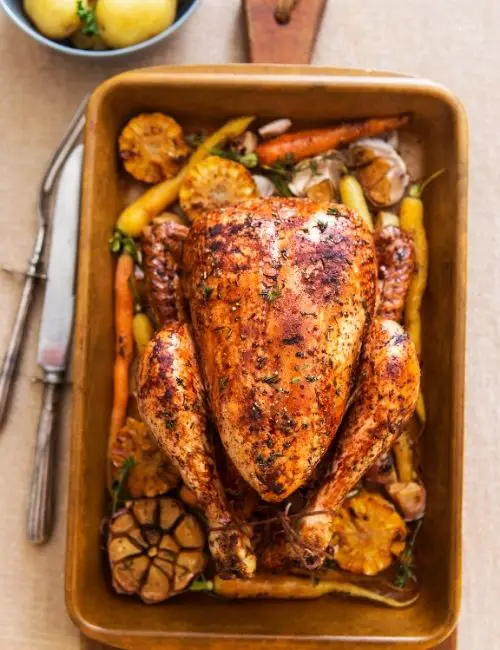 What is a Roaster Chicken? 
A roaster chicken is a large chicken that is perfect for roasting. It usually weighs around 3 to 5 pounds. When you roast chicken in the oven it turns into a delicious and tender meal.
Roaster chickens are a popular attraction for special dinners and gatherings.
Why to roast a chicken?
Roasting a chicken is a fantastic idea because it makes the chicken very yummy. Roasting a chicken makes the skin crispy and golden. But from the inside, it stays juicy and flavorful.
Roasted Chicken Ingredients
These are the ingredients you need to make the tasty roast chicken recipe at your home:
One whole chicken 4 to 5 pound
Salt to taste
Black pepper to taste
3 tablespoons Onion powder or to taste
1/2 cup Butter or Olive oil
Herbs especially celery and aromatics (rosemary, thyme, garlic)
Equipment:
Roasting pan with a rack
Meat thermometer
Kitchen twine for trussing ( optional )
How to prepare the chicken for roasting
To prepare chicken for roasting you must follow 3 important steps. To roast a chicken, start by selecting the right one. Then, clean and pat it dry. Finally, truss the chicken before roasting it.
How to choose right chicken for roasting
Start with a fresh whole chicken, ideally around 4-5 pounds. Ensure it is clean and free of any feathers or giblets.
Cleaning and Patting Dry Chicken
Rinse the chicken inside and out with cold water and pat it dry with paper towels. This step helps achieve crispy skin.
How to truss a chicken for roasting
To cook the chicken evenly, tie its legs together using kitchen twine. While it is optional, it can help to maintain the chicken's shape while roasting.
You May Like
How to roast a chicken step by step
Here are the instructions for making roasted chicken. There are three major steps. The first step is seasoning and flavoring the chicken. The second step is preheating the oven. The third step is roasting the chicken.
Seasoning and Flavoring for roasted chicken
Seasoning the Chicken: Season the chicken inside and out with salt, pepper, onion powder. Next, put 3 tablespoons of butter inside the chicken cavity. Then, spread the rest of the butter on the outside.
Adding Herbs and Aromatics: Put celery, rosemary and thyme in the chicken cavity with garlic cloves for a nice smell.
Marinating (Optional): For even more flavour you can marinate the chicken for a few hours or overnight in the refrigerator. Use a mix of butter, herbs and spices for the marinade.
Preheating the Oven
Setting the Temperature: Preheat your oven to 375°F (190°C). This is the ideal temperature for roasting chicken to perfection.
Choosing the Right Oven Rack Position: Place the oven rack in the middle position. This ensures even cooking and browning.
Roasting the Chicken
Placing the Chicken in the Oven: Put the seasoned chicken on a rack inside a roasting pan. This allows air to circulate around the bird, promoting even cooking.
Monitoring Cooking Time Based on Weight:
You can remember to time rule to roast chicken. Roast the chicken for about 20 minutes per pound.
So, a 4-pound chicken will take around 80 minutes. Check the internal temperature with a meat thermometer. It should reach 165°F (74°C) in the thickest part of the thigh, near the bone.
How long to Roast Chicken
To cook a 4-5 pound chicken, roast it at 375°F (190°C) for about 80-100 minutes. The meat is cooked when it is no longer pink at the bone and the juices are clear.
Use a thermometer to check if the thickest part of the thigh (near the bone) reaches 165 degrees F.
How do you know when your roasted chicken is cooked?
Using a Meat Thermometer: Insert a meat thermometer into the thigh without touching the bone. When it reaches 165°F (74°C), your chicken is perfectly cooked.
Visual Cues: Alternatively, you can look for visual cues. The chicken should have golden-brown skin, and the juices should run clear when you pierce the thigh with a knife.
Resting and Carving Roast Chicken
Letting the Chicken Rest: Remove the chicken from the oven and let it rest for about 10-15 minutes. This allows the juices to be redistributed, keeping the meat juicy.
How to carve a Chicken
Remove Chicken Legs: Cut through the skin between the leg and body. Bend the leg backwards and cut through the joint to separate it.
Separate Drumsticks and Thighs: Find the joint between the drumstick and thigh, then cut through it.
Carve Chicken Breast: Slice the breast meat against the grain for tender, flavorful slices.
Expert Tips and Tricks to cook the best roasted chicken recipe
Get the Chicken Dry: Make sure your chicken is very dry before you put it in the oven. This helps the chicken skin become crispy.
Flavorful Seasoning: Don't be shy with the seasoning. Use enough salt and pepper to make the chicken taste extra good. You can also add herbs and spices for extra flavour.
For a twist on classic roast chicken, try adding lemon zest, paprika or your favourite spices to the seasoning mix. You can also experiment with different herb combinations for a unique flavour profile.
Even Cooking: To cook your chicken evenly, let it sit out of the fridge for about 30 minutes before roasting. This helps it cook just right from the outside to the inside.
Meat Thermometer Magic: A meat thermometer is your best friend. Stick it in the thickest part of the chicken's thigh, and when it hits 165°F (74°C), your chicken is cooked perfectly.
Rest and Carve: After roasting let your chicken rest for a little while. This makes it even juicier. When you carve it, cut it against the grain for tender slices.
What to serve with roast chicken
you can serve your roasted chicken with sides like mashed potatoes, roasted vegetables or a fresh salad. Garnish with additional herbs for an extra touch of flavour.
How to store Roasted Chicken
To store leftover roast chicken, first cool them completely. Then wrap the chicken in foil or keep it in an airtight container in the refrigerator for up to 3-4 days.
FAQs related roasted chicken
How Do You Know Your Chicken Is Cooked?
 Use a meat thermometer; the internal temperature should reach 165°F (74°C).
What If You Don't Have a Thermometer?
 Look for visual cues – golden-brown skin and clear juices.
What to Do If My Chicken Is Undercooked? 
Return it to the oven and continue cooking, checking the temperature regularly.
Do You Boil Chicken Before Roasting? 
No, roasting chicken doesn't require boiling beforehand.
Should You Cover Chicken When Oven Roasting? 
No, leave it uncovered to achieve crispy skin.
Is It Roasted or Roast Chicken?
 Both terms are correct; you can use them interchangeably.
What Is a Roaster Chicken? 
A roaster chicken is a young chicken suitable for roasting, typically weighing around 4-6 pounds.
You've successfully learned how to roast a chicken step by step. With the right ingredients, equipment, and techniques, you can create a delicious and impressive meal.
Don't hesitate to experiment with different seasonings and flavours to make them your own.