chilli paneer recipe|how to make restaurant style chilli paneer gravy recipe?
chilli paneer recipe is the most popular paneer recipe in Indo-Chinese cuisine in which fried paneer tossed in spicy sauce and garnished with spring onions or coriander leaves. In this post you will learn how to make two popular types of chilli paneer recipes,one is dry chilli paneer and the other one is chilli paneer gravy recipe.
Note:if you are in a hurry,feel free to click on the following links to check your desired topic.If you'd like to see our in-depth step by step recipe preparation keep reading!
Though this is very simple and easy chilli paneer recipe yet it tastes very delicious and can easily be prepared at home.
More Recipes You May Love
What serves best with chilli paneer?
paneer chilli serves best with indian naan,roti it also goes well chinese noodles,fried rice.
Note: at the end of this detailed step by step chilli paneer preparation i put all the chicken curry ingredients list including quick
overview steps in the recipe card.
restaurant style chilli paneer step by step with photo?
To prepare restaurant style chilli paneer here are the three simple steps,
first one is marination of paneer,second one is fring paneer
and
last one is preparing spicy delicious gravy for paneer chilli.
So,let's make it.
Marination Of Paneer
1.For marinating paneer in a medium size bowl add 3 tbsp cornflour powder.
2.Then add 3 tbsp maida or all purpose flour or plain flour in mixing bowl.
3.Next add ½ tsp kashmiri red chili powder.
4.Also add ½ tsp black pepper powder.
5.Now add,1/6 tsp salt [adjust as per need] also sprinkle 1 to 2 tbsp water.
Note:don't make batter of using excess water,it becomes rainy and lost it's coating consistency.
6.Finally,add 200 to 250 gm fresh paneer cube or indian cottage cheese in mixing bowl.
7.Now,gently coated paneer cube in this mixture without breaking.
Frying Paneer Cube
1.For frying paneer,heat 3 tbsp oil and spread them evenly in the pan.
Note: if you want to use butter instead of oil you can add 2 tbsp butter and melt in low flame.
2.Then,add coated paneer and fry them in medium to low flame upto 1-2 min.
3.Flip next side and fry them too.Fry them 2 to 3 min until paneer becomes slightly golden brown colour.
4.When,every paneer becomes completely golden brown, turn off the flame. Don't over fry paneer it will become chewy and tasteless.
5.Now, take out the fried paneer from the pan and drain off the excess oil in kitchen tissue.
Preparing Chilli Paneer Sauce
1.For preparing spicy paneer chilli sauce in a small bowl add 1 tsp red chilli powder.
2.add 1/2 tsp black pepper powder.
3.Next add 3 tbsp red chilli sauce and 1 tbsp tomato ketchup.
4.Now add 1 tbsp soya sauce.
5.Also add 2 tbsp vinegar in this bowl.
6.For balance taste of sauce add 1 tbsp sugar .
7.Next add 4 tbsp water to make paneer chilli sauce.
8.Finally mix everything to make a smooth paneer chilli sauce and set aside for later use.
Preparing Cornflour Water mixture
1.For making a smooth cornflour water mixture in a small bowl first add 2 tbsp cornflour powder.
2.Then add 5 to 6 tbsp water in this bowl.
3.Finally mix gently without making any lumps and make a smooth cornflour-water mixture,which we will add later for making glossy restaurant style paneer chilli.
How To Make Paneer Chilli Dry Recipe ?
1.Now,for preparing dry chilli paneer heat 3 tbsp oil in the same pan in low flame and spread it evenly.
2.Now, add 1 tbsp ginger-garlic paste or chopped and salute 1 min without burning in low flame until it's raw smell goes away.
3.Then,add 1 medium size layer separated onions.
4.1 square cut capsicum.
5.2 to 3 green chilli
6.Now, saute them in medium flame for 3 to 4 min.
7.Furthermore,add chilli paneer sauce which we made earlier and cook on medium to low flame until sauce thickens.
Note: at this stage add a little water on sauce unless your sauce may burn.
8.Now stir gently in medium to low flame upto 2 to 3 min.
9.Then, add this cornflower and water mixture in the pan .
10.stir gently until chilli gravy become glossy.
11.Next add a little water and check taste of salt and sauce,if it requires then add it.
12.Now let the sauce cook in low flame upto 1 to 2 min.
13.After that add fried paneer cube in this chilli gravy .
14.Now,stir 1-2 minute in medium flame until paneer gets evenly coated with sauce.
15.Finally we prepare our tasty,delicious paneer chilli recipe with indo-chinese style now garnish with freshly chopped coriander
leaves or spring onions on top of gravy.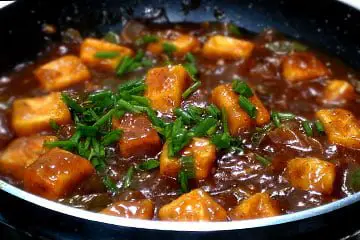 How To Make Chilli Paneer Gravy Recipe?
Now if you want to prepare chilli paneer gravy,you have to do two more things
first one add more water to became gravy,
and
second one is increase your sauce quantity to make the gravy more spicy.
1.Increasing quantity of batter by adding more corn flower 2-3 tbsp with water ½ cup to 1 cup.
2.Making more spicy chilli paneer gravy,adding 1 tbsp soya sauce,chilli sauce,tomato ketchup,sugar stir and mix them well to avoid making lumps.
Note:all vegetables will be fried same as above.
3.Now add cornflour water mixture and water to simmer gravy.
4.When, gravy starts boiling keep flame low.
5.Always check taste of salt or sauce ,if require add now.
6.Then,add fried paneer in this gravy and simmer 1-2 minute.
7.Finally our paneer chilli gravy recipe is also prepared garnish some chopped spring onions and coriander leaves.
Paneer Chilli Recipe Video
If you want to watch chilli paneer recipe video watch free on YouTube ⇓ .
Chilli Paneer Recipe Card
Here is the quick overview of all the chilli paneer ingredients including quick step by step preparation of chilli paneer shown in recipe card.
Take note of all ingredient list.